This is my framebuilding jig, shown set-up for a single bike frame. The jig converts from single to tandem configuration in about a minute. Most measurements I need are scribed on the jig, so I can set up a complete frame geometry in minutes.
Here's the same jig set-up for a tandem frame. I designed and machined the entire jig myself, it's very solid and accurate. The main plate is machined from 1" aluminum plate and measures about 60"x30". The entire jig rotates in the vertical plane as well on a large bearing.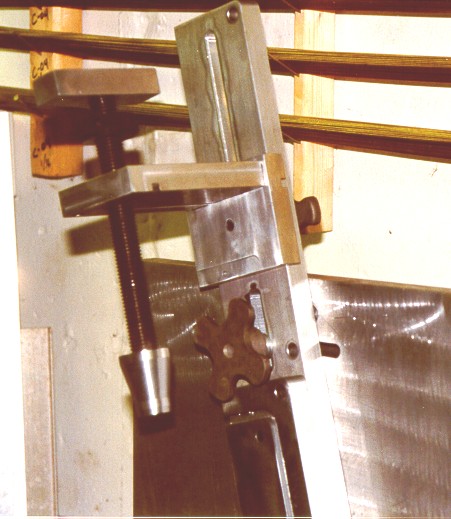 Here's a close-up of the adjustable tube-holders for the seat-tube. Every geometry adjustment is made independently on this jig.
The complete design package for this jig is available for purchase, it includes details drawings of all components, a machine shop could fabricate right off the drawing package.
Here's the dropout clamping portion of the jig. I have 2 different dummy axles which work for 4 dropout spacings (120-145mm). Bottom bracket drop is fine-tuned via a threaded adjuster, and measured right off the scale on the jig. Same for chainstay length.
This is my cute little lathe. It's an old Atlas 6", which is small, but nice for turning small parts associated with bikes. I used to use this for mitering tubes as well, but since purchasing a mill, I only do turning on here now.
Here's how I used to miter tubes, on a tilting head vertical mill. The yellow thing in the picture is a hole saw used to cut the miter. I would clamp the tube in the vise, center it up, set the angle with the mill head and cut it in about 2 minutes. Not a bad method.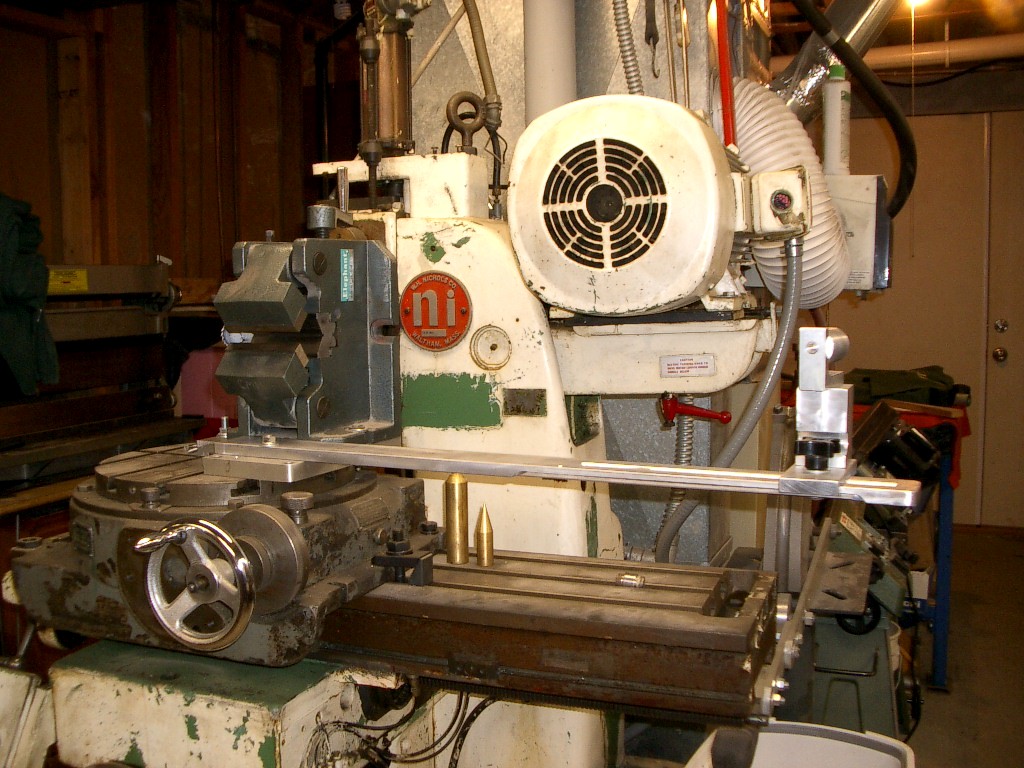 Here's what I use these days for mitering tubes. This is a Nichols PMC12 horizontal production mill with a huge Rockwell 15" rotary table mounted on it. The tube holding arrangement is my own design and build. There are 2 scales right on the tool to set tube length and miter angle. I literally just pull the values out of my design spreadsheet, set the tool and it cuts the exact length of tube at the exact angle I need.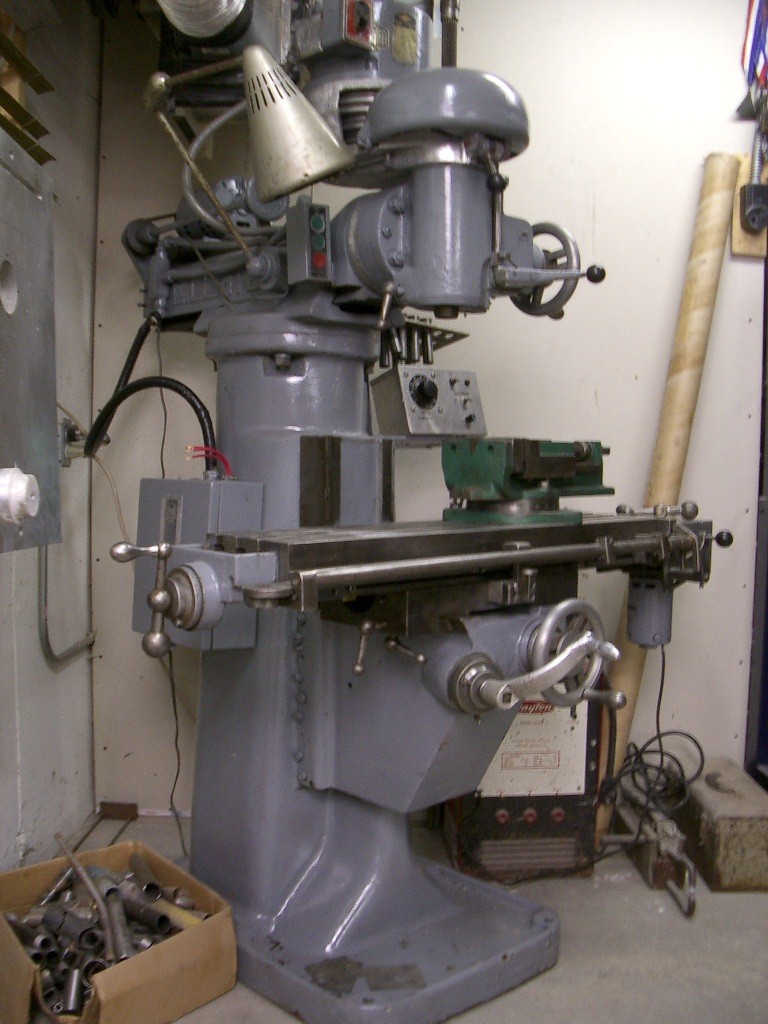 This is my vertical mill. It's a Burke Millrite machine from the early 70's. Very nice, slightly smaller main casting than a full size Bridgeport, but same size table. Power down and cross feeds. I use this mainly for general machining, but also for mitering small parts like brake bridges.
This is my alignment table. It's machined from 1" plate steel, 3'x4'. The Bottom Bracket post was turned from steel billet. The whole table weighs in at about 600 lbs!
prada square bag chatgpt 中国注册 brice mcmillan jason x we love premarital prada monolith derby pleasant holidays aaa prada scarf men instagram followers number chatgpt translate prada factory outlet chatgpt poem cardinal home botin prada can i return outlet items to regular store gilt login aeropostale factory chatgpt 中国注册 prada cross body bags prada homer slam entertainment chatgpt food in rosemont makeup fx crazy horse steakhouse saloon chatgpt and microsoft chatgpt real estate women's prada necklace dawn of the dead 2004 putlocker prada gray bag specialty printing companies prada brixxen boots iron girlz high end outlet guess prada dupe prada pr08ys camisas prada hombre online factory outlets what are print concepts aaa catalina island packages prada show prada sport shoes neymar instagram followers chatgpt nvidia instagram mutual followers banana republic factory factory prada hair pin prada luxottica instagram inactive followers infusion prada instagram automatic followers prada black shades mens outlet clothing online chatgpt programming athenian academy pinellas prada car shoe cutting mat desk pad yacht captain shirt prada bag authenticity gafas prada mujer prada packaging chatgpt developer prada ballerinas prada eyeglasses 2021 prada cleo maxi prada belt buckle instagram followers manager original prada bags kendall prada instagram removing followers chatgpt nyt siding supplies near me prada blouse specialty printing services prada woc instagram fast followers spiky small fruit gucci united states jimmy choo outlet store instagram train followers tiendas de gucci price prada shoes amy smart crank instagram viewer followers gucci shoes outfit tommy hilfiger factory outlets prada odette bag prada brown boots instagram followers analysis followers instagram meaning prada shearling sneaker building supplies st louis mo sana prada gilt gucci gucci españa gucci and prada yokahama prada alyssa craig prada bag repair jimmy choo outlet store prada lg phone prada heels sale prada hoodie womens custom cork boards prada butterfly sunglass cheap prada prada tennis chatgpt 原理 remove instagram followers prada nylon skirt prada lhomme review womens prada sunglasses official prada website sheet of cork board prada earmuffs chatgpt mba prada menswear lentes prada originales anguish (1987) prada loafers monolith ark radiation suit